Since the 90's I've been playing racing games, starting probably with the first one I was interested in, Formula 1 '97. I got my first kart in 1999, and raced karts at the NSW and Australian level mostly through until 2011. During this time I continued to be an avid gamer, and racing games eventually became so realistic they became known as racing simulations. I enjoyed the original Gran Turismo, but I've always been a PC gamer so I was naturally big into the Geoff Crammond Grand Prix games, the ISI EA Sports F1 games, rFactor 1, and iRacing.

Late last year when I was in Tokyo for work, I attended the Tokyo Motor Show 2019 and saw the live Gran Turismo event which really piqued my interest in it. I was missing the competition of motorsports. I decided to buy the game on my PS4 and have some fun just using a controller.
Eventually, I became hooked. When the COVID-19 lockdowns started happening in Australia around March, I decided to buy a steering wheel as I was probably going to be indoors and at home for a significant amount of time over the coming months. With my years of experience kart racing and PC sim racing, along with my new steering wheel, I was soon able to progress up the ladder within reach of the top of the Oceania region.
Despite its slogan, I don't agree that Gran Turismo has ever been the "real driving simulator", and this holds true for the franchise's most recent incarnation Gran Turismo Sport. However, I would ague it is an amazing competitive racing simulator, offering strategy, tire wear, and some seriously fast drivers as competition. Also, given most races have tuning disabled it rewards fast drivers and good strategy, rather than people who can engineer a good setup for their virtual car.
I recreated my karting outfit for my in-game avatar, and set about my first attempt at the Nations Cup season.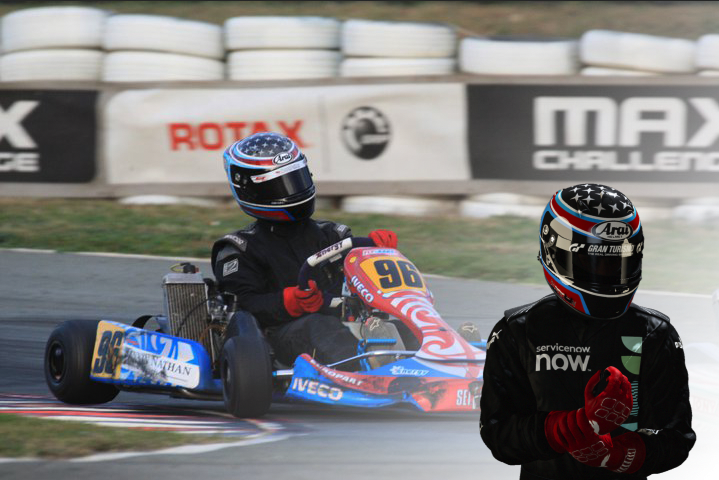 I decided to tackle Nations Cup only for this season as the equal machinery it offers would allow me to more easily understand how to improve my driving, versus the Manufacturer Series which would have made it hard for me to decide whether the reason I'm fast/slow was because of my driving or the car I was in.
There were a few costly mistakes which compromised my position in the championship; particularly, round 20 when I easily would have finished second in the race were it not for missing my braking zone at turn 1 and pressing the wrong button in a pit stop, forcing me to need to make an extra pit stop.
At the end of the season I finished in 6th position, which I'm more than happy with and I know that removing the mistakes and learning Gran Turismo more, I am capable of finishing much higher.

Below can be found full length videos from the Oceania Nations Cup Top 16 races, highlights of each round, and a quick summary of each race from my point of view.
Round 3: Gr.2 at Barcelona
This was my first ever Top 16 race. I qualified in 6th, and after making it up to 4th position on soft tires at the start, I dropped back to 6th after the pit stops and finished there. My "2-in-1" pass on Emily Jones and Simon Bishop made it into the highlight reel at the end of the year.
Race Highlights
Full Race
Round 7: Gr.3 at Suzuka
I surprised myself by qualifying in P3, however I realised during the race that I need to do more work on tire conservation as I steadily dropped back through the field and in the end finished in 7th place.
Race Highlights
Full Race
Round 10: Gr.1 at Spa-Francorchamps
This was an interesting round, with a tough decision to be made as to which car to use for the race. The Audi R18 was clearly the fastest over a single lap, dominating the practice leaderboard. However, it didn't have the capability to regenerate its battery at a fast enough pace, and so on subsequent laps it was not nearly as quick. Potentially, it was actually slower than some of the other cars.
The R18 was so much quicker over the first lap that I decided that as long as I could get my qualifying lap perfect, I would be towards the front of the grid, and ideally there would be also a number of R18's immediately behind me that will protect me from the cars that were faster over the subsequent laps.
The car choice paid off, qualifying third and running for second for a large chunk of the race. However, where the car choice was good, the race strategy was bad. I did a three stop strategy instead of a two stop, and I didn't have the pace to be able to pull enough of a gap over the two stoppers to finish in front of them I ended up finishing in 4th place.
Race Highlights
Full Race
Round 16: '09 Pagani Zonda at Nurburgring GP
The '09 Pagani Zonda is an intersting car, which greatly rewards being early on the power as long as you can avoid wheelspin, which meant a lot of early shifting. I qualified second, and was running second again for a significant chunk of the race however my race strategy had me undone again, where I went for a three stop when a two stop was actually the ideal strategy. I finished in 4th place.
Race Highlights
Full Race
Round 20: F1500T at St.Croix
This was probably the most interesting round of the season. Not only was the track one of the longest, but the cars had open setups meaning that almost everything about the car could be changed, including the suspension, the gearing, and the wings. Round 20 of the Manufacturer Series was at the Nordschleife, one of the longest tracks in the world. The fact that I didn't need to practice there, and could instead spend time tweaking my setup and learning the St.Croix track was very advantageous.
I was seconds clear in practice, and I knew I had a good chance of a top 3 finish in this race. I qualified in 2nd, and for the first time lead for a large amount of the race. However, on exiting the pits after the first stop I missed my braking point at turn 1 and broke at the 100 meter mark, rather than the 150 meter mark, and went spearing into the wall. This dropped me back to P3. As I was doing my single lap on hards, I entered the pits at the end of that lap once again, and stupidly pressed the wrong button and opted for the hard tyres again! These were seconds per lap slower than the tire I wanted to be on, and as the soft, medium, and hard were all mandatory it meant I effectively lost an extra 10+ seconds making a pit stop that I didn't need to.
I finished in P4.
Race Highlights
Full Race
Round 24: Gr.4 at Lake Maggiore
This race was one to forget. Although I was fast in practice, I just didn't have the finesse with the throttle or brake on my Logitech G29 steering wheel to lay the power down consistently enough for the Audi TT cars that you had to use to be fast at this track.
I qualified P8 and finished P10.
Race Highlights
Full Race
Round 28: Gr.3 at Dragon Trail
I was almost 3 tenths of a second quicker in practice than anyone else, and in qualifying for the warm up race I placed the car on pole position. However, I'd chosen the quick but unstable McLaren 650S for the race, rather than the slightly slower but more subdued Aston Martin or Toyota Supra. This was my undoing in both the warmup race, as well as the Top 16 race with the "Chicane of Death" taking me victim in both races.
It was quite frustrating at the time to be taken out so abruptly, and I would have likely finished the race at least in another more stable car, but the McLaren was fun and risky, and although it didn't pay off this time, there are plenty of learnings taken that will make it a less risky choice next time.
Highlights
Full Race
Round 30: Red Bull X2019 at Sardegna
By far my best round of the season, and what better way than the last one. Prior to this round, although I had threatened a podium finish I had always fallen short for one reason or another (often, the race strategy). This round I focused not just on the single lap pace in practice, but also making sure I did some practice of single lap pace in qualifying (with tire wear) and learning my braking points to use in the race with wearing tyres, and a heavy but lightening fuel load.
It paid off. After leading the race for the first few laps, being passed by Cody Nikola Latkovski and being in second for the next few laps, Cody spun and that promoted me to the lead again, and there was no looking back.
My strategy worked out great, and at one point even (a lot due to my strategy) I was in the lead by 25 seconds! In the end after all the stops and the chequered flag dropped, I won the race by almost 8 seconds. Not a bad way to finish the season!
Race Highlights
Full Race